Siberian Husky dog breeds have beautiful, thick coats and striking blue or multi-colored eyes. Among all dog breeds, these wolf looking dogs are among the most beautiful breeds. That's why its no surprise that SeQuoi Tenk aka Quoi, a rare brown blue-eyed Siberian husky, has amassed a significant following on Instagram.

The Husky SeQuoi: Instagram
As you can see, Quoi is incredibly beautiful with his chocolate & pumpkin spice color coat and striking blue eyes. Siberian husky's can be mistaken for wolves and upon seeing him, you may think he is. However, as noted in his Instagram profile, he is authentically 100% DNA tested Siberian Husky.
With the exception of the white stripe on his belly, his coat is entirely brown. This is rare for a Siberian Husky. Blue eyes isn't so rare.
His name, SeQuoi Tenk, while unusual has meaning and purpose behind it.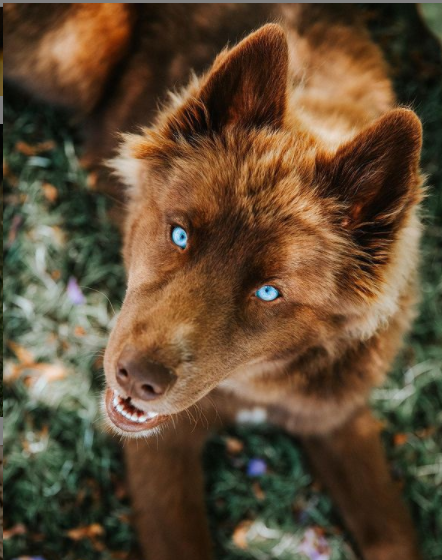 The Husky SeQuoi: Instagram
"His first name SeQuoi, is after a sequoia tree," Nikki told Modern Met. "They say a name can really shape a personality, and I wanted him to be big, tall, and strong like a sequoia tree is.", "Tenko is Japanese for 'heavenly fox,' and as much as I wanted him to be strong, I also wanted him to be sweet, which he totally is!"
He lives the nomadic life with his mom Nikki who is travelling throughout the United states. They are searching for their new home as documented on her Instagram. She has captured some really stunning pictures of the beautiful pup during their journey which you can see on the following page.
Recommended: